Andi Eigenmann on weight loss: Turn fitness goals into your actual lifestyle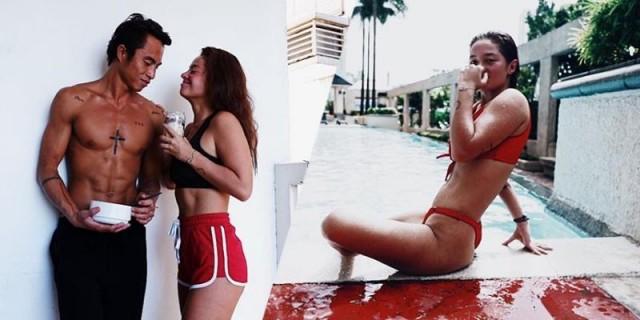 Actor Andi Eignemann believes switching into a healthy lifestyle is the best way to take care of one's body.
On Instagram, Andi posted a photo of herself clad in a sports bra and shorts, and in the caption she said she has tried several ways to lose weight but failed.
"I'm no fitness expert, but like most of you, I grew up spending my days trying out different ways to lose weight (and failed numerous times as well) to achieve the media's standard of beauty."
She said turning your goals into your "actual lifestyle" is how she continuously maintains her body.
"And although I've also lost 35 lbs. of baby fat in 6 months, and 52 lbs. of my pregnancy belly in just 4 months in the past, I must say that there's no better way to take care of your body than turning these 'fitness goals' into a big part your actual lifestyle," she wrote.
She then pointed out her favorite beer glass, which she now fills with healthy food for her breakfast staple.
"Btw, if u take a look at what I am holding, you'll notice that what used to be my favorite beer glass is now serving its new purpose as a container for my breakfast staple! (Recipe in my highlights)."
Among the factors that are truly helping Andi are her advocacy for the environment, her daughter Ellie, and her boyfriend, champion surfer Philmar Alipayao.
"It also gets easier when you know what motivates you to keep going. In my case its @ellieeigengirl and the eagerness to become the best example I can be to her as she grows older," she said, adding a shout out to Philmar "for influencing me to make this a habit, for motivating me to be my best self and to stop waiting for tomorrow to start turning my dreams into reality."
Most of all, Andi said it was important to do it for yourself.
"Even though I knew I WANTED to do better, I started focusing on how to better MYSELF— my own mind, and my own body," she wrote.
"I started doing it for me. Because I wanted to be a better version of me, not because I want to look like someone else," she added.
["source=ndtv"]