Create Middle-Eastern vegetarian tastes at home with these 2 recipes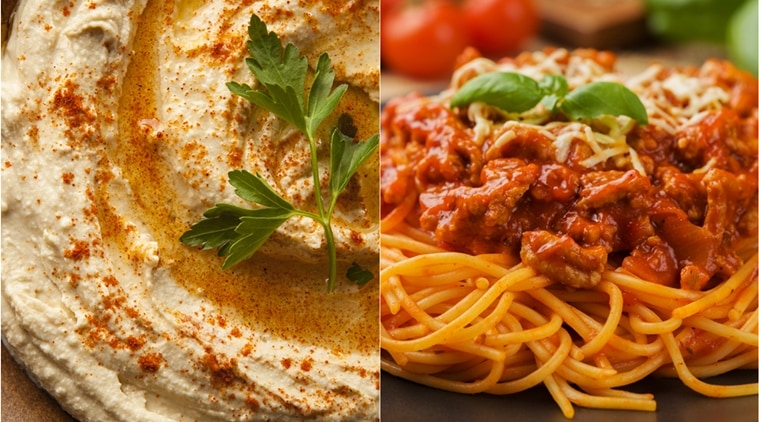 Dubai may be the home of some lip-smacking non-vegetarian dishes like shawarma, oozi, shish tawook or grilled hammour but the tourist hub is witnessing a sudden rise in the demand for vegetarian food items as well.
Here are some easy to cook recipes of vegetarian delicacies provided by Chef Ibrahim Ayoub from Mazehar and Chef Heinz Beck from the Social restaurant in Dubai which will give you the flavours of the Middle East at home.
HUMMUS WITH DRY FIGS AND WALNUTS
Ingredients
2 cups – Drained, cooked chickpeas
3 tbsp – Extra-virgin olive oil
3 tbsp – Tahini
1.5 tbsp – Lemon juice (from 1/2 lemon), plus more to taste
1 – Small clove of garlic, roughly chopped
1 tsp – Salt
1/2 tsp – Finely ground black pepper
1 tbsp – Chopped dry figs
1 tbsp – Chopped walnuts
1/4 tsp – Bicarbonate soda
ALSO READ | Dig into these desserts without counting calories
Method
* Soak the chick peas for 12 hours, wash and add bicarbonate soda and water then boil it till it becomes very soft.
* Then combine all ingredients chickpeas, olive oil, tahini, lemon juice, garlic, salt in a food processor.
* Blend for 1-2 minutes until it becomes a very smooth paste and scrape down the sides of the bowl to check for any large chunks that exist and blend.
* If your hummus is thicker than you'd like, add more lemon juice or olive oil to thin it out and make it creamier.
* Finally, scrape the hummus into a bowl and top it with chopped dry figs, chopped walnuts, olive oil and serve with pita bread.
SPAGHETTI COOKED IN TOMATO WATER AND PARSLEY SAUCE
Ingredients
2kg – Cherry tomatoes
1 bunch – Parsley
1 bunch – Basil
1 sprig – Thyme
1/2 – Carrot
1/2 stalk – Celery
1 – Small, boiled potato
2 cloves – garlic
Chervil – For garnish
For Pasta
240g – Spaghetti
1 – garlic clove
Extra virgin olive oil
Method
* For tomato water, blend tomatoes and wrap them in a cloth. Drain through a strainer and filter the liquid to obtain 200g tomato water.
* For making the parsley sauce: Clean parsley and basil bunches and blanch leaves in salted water for 4 minutes, taking care to cool them immediately in ice water to keep the color alive.
* Mix parsley and basil with 50ml of their cooking water, boiled potato, and some drops of extra virgin olive oil.
For preparing the spaghetti:
* Boil it in abundant salted water for 5 minutes.
* Take out of the water before completely cooked and pour in the boiling tomato water while stirring well.
* Add two spoons of garlic-flavoured extra virgin olive oil.
* For the presentation, first, place a strip of parsley sauce in the centre of the plate. Layer this with the Spaghetti and complete the dish with using chervil as a garnish.
With delicacies like these, is it any wonder that there are some 4,500 veggie-friendly restaurants in the UAE?
["source-indianexpress"]