Get comfy! How curling up on the sofa became the height of fashion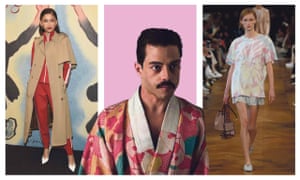 What are you doing tonight? With the sun setting before 4.30pm, the onset of winter is enough to make even the most sociable of us want nothing more after work than a simple formula: sofa, sweatpants, a series on the laptop and – depending on whether your mood is more Olivia Pope or the Queen – a glass of wine or a nice cup of tea. Guess what? That is not a cop-out this year. In fact, it is the height of fashion. We have reached peak effortless dressing and are now at "can't be asked". Sofa dressing is the off-duty look for 2018.
The fashion site Man Repeller calls it "sleepleisure" and is in favour of it. So is the retailer Farfetch. "It's a reflection of a big shift towards comfort," says Celenie Seidel, Farfetch's market editor. She cites 2012's "cosy boy" phenomenon, which had the soft-sweatpant- and baseball-jersey-wearing hip-hop collective A$AP Mob as figureheads. You could also credit Kendall Jenner and Rihanna, with their XXXXL hoodies; Hailey Baldwin in a tracksuit at the airport; and Elle Fanning in one at a party.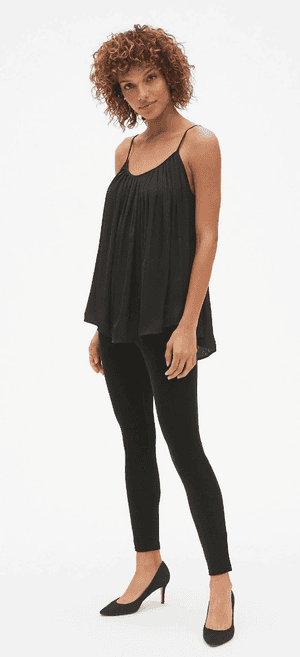 The brand to know is Les Girls Les Boys, the label by the co-founder of Agent Provocateur, Serena Rees, which sells underwear, but also hoodies, T-shirts and shorts to sleep in. Forget hygge – it describes itself as "bed to street". If you need a reference, try kalsarikänni, or "pants drunk", the Finnish anti-hygge, which is all about, well, getting drunk in your pants. Even if you are on a no-booze day and wearing a little bit more, the proudly slobby style sentiment is easy to get behind.
The move to reclaim comfort clothes for outside the home has been underway for ages: pyjama dressing has gone from school gates to Saturday night, while the duster robe – essentially a dressing gown – has become a favourite with fashion editors and other people who are photographed "out and about" for a living. But now it is the clothes you reserve for a night in front of the box that are in the frame. You know the kind – the big T-shirt you have had for ages, teamed with leggings and unicorn slippers. The grey trackies and matching hoodie. The pyjama shorts and dressing gown. The comfy nightdress you change into way before bedtime.
This trend presents as the opposite of the perfectly tasteful, definitely-very-expensive loungewear of your best life as presented on Instagram. There is no need for perfectly groomed hair and makeup here. Instead, this is a situation for a topknot, no makeup, a jade roller to hand and lights out at 9.30pm.
Before you smugly put on your slipper socks, though, there is a disclaimer. Sure, at home you are in a safe space with only your nearest and dearest, but thinking about your sofa dressing could fall under the zeitgeisty idea of self-care. Right now, considering what you wear around only your inner circle feels more modern than dressing to impress strangers in a bar – and, let's be honest, Instagram sneaks in here. Thanks to the bathroom selfie, Netflix-and-chill culture and #iwokeuplikethis humblebrags, nowhere is off-limits from the feed. As Man Repeller puts it: "Innerwear is outerwear because what we do inside is no longer private." Some form of game face needs to be maintained at all times. So, your old faithfuls for sofa dressing need an update.
How do you turn your no-second-thoughts sofawear into something more mindful? Obviously, this is one where you can shop your wardrobe by reassessing your out-of-the-house wardrobe and bring key comfort pieces indoors. Alternatively, have a refresh. Your shorts-and-a-big-T-shirt look can be updated with a glance at Stella McCartney's most recent catwalk, which featured a crew-neck tie-dye T-shirt. (You will be ready for next spring, too, when tie-dye will be massive.) There are loads of these on the high street. Pair with 80s-style running shorts – the kind that Michael Cera wore in Juno – and college socks, the chunky ones with the banding. Cardi coats are allowed, too, and look good over shorter lengths.
Leggings, meanwhile, can be upscale. Gap has a pair of velvet ones. They are styled with heels on the website, but would look equally good, if not better, with novelty slippers. There are some nicely minimal ones in Alexander Wang's Uniqlo collection, too, which launches on 11 November. Tracksuits can be trad (Adidas, Fila), for a football-manager-on-the-training-ground look, or fun, with a mix-and-match attitude to patterns encouraged. Asos has loads of these in its loungewear section (don't let the name put you off). For robe inspo, look to Rami Malek as Freddie Mercury in Bohemian Rhapsody and Nigella Lawson at home. You can find similar designs at Arket and & Other Stories. Pair with proper pyjamas – and wear bobbly slipper socks with pride, of course. Sofa dressing is still about comfort over style, remember – even if Instagram is involved.
["source=forbes]