How to make Angara Murgh Tikka and Blue Cheese Naan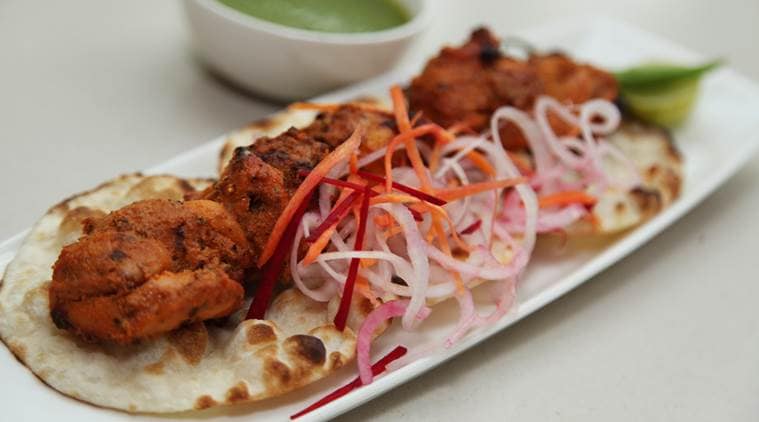 Is Chicken Tikka and Naan your favourite combo? Do you prowl around the city, trying to find outlets that serve the best? What if we tell you that you don't have to go to a fancy restaurant or waste your time hunting for a place any more to have a delicious meal? It's possible to get that great combo with an interesting twist right at home.
Subrata Debnath, Executive Chef, Vivanta by Taj – Gurgaon, shares his amazing Angara Murgh Tikka and Blue Cheese Naan recipe with us.
Ingredients
Angara Murgh Tikka
500g – Boneless chicken thigh and leg
100g – Yogurt
1 tsp – Ginger paste
2 tsp – Garlic paste
1 tsp – Roasted cumin powder
1 tsp – Red chilli powder
½ tsp – Garam masala powder
½ tsp – Coriander powder
½ tsp – Yellow chilli powder
1 tsp – Kasoori methi
2 tsp – Lemon juice
2 tbsp – Clarified butter (ghee)
Salt to taste
1 tbsp – Melted butter
Blue Cheese Naan
300g – Refined flour (maida)
100ml – Warm water
10g – Yeast
5g – Salt
2 tbsp – Yogurt
75g – Blue cheese
1 ½ tbsp – Clarified butter (ghee)
1 tsp – Melted butter
Method
For Angara Murgh Tikka
* In a large mixing bowl, prepare the marinade by mixing in all the ingredients well except the chicken and the butter.
* Add the chicken cubes and mix well.
* Refrigerate for 2 hours.
* Skewer the chicken cubes on wooden shashlik sticks and cook over a charcoal grill or inside a grill tandoor. If unavailable, cook on gentle heat with a dash of ghee in a large non-stick skillet.
* While the chicken cooks, baste it with melted butter for added flavour.
For Blue Cheese Naan
* Combine the yeast and water in a bowl and set aside.
* Mix together flour, salt, yogurt and ghee in a large bowl.
* Add the yeast-water mix to the dry ingredient mix and knead it into a soft dough. Cover the dough with a muslin cloth and allow it to rest for 2 hours until it's well-risen.
* Once the dough has risen, add the blue cheese and knead again.
* Dust a clean surface with flour and using a rolling pin, roll out the dough into small bite sized naan pieces (approx 5 inch in diameter).
* Roast the naan inside a charcoal tandoor or over a small charcoal grill. Alternatively, stick the rolled out dough inside the walls of a pressure cooker and allow it cook without the cover.
To serve
* Place the bite-sized naan on a plate and brush with melted butter.
* Place the chicken tikka on the naan pieces.
* Garnish with freshly chopped coriander leaves.
* Serve hot with thin slices of onion, beetroot, mint chutney and lemon wedges.
["source-indianexpress"]